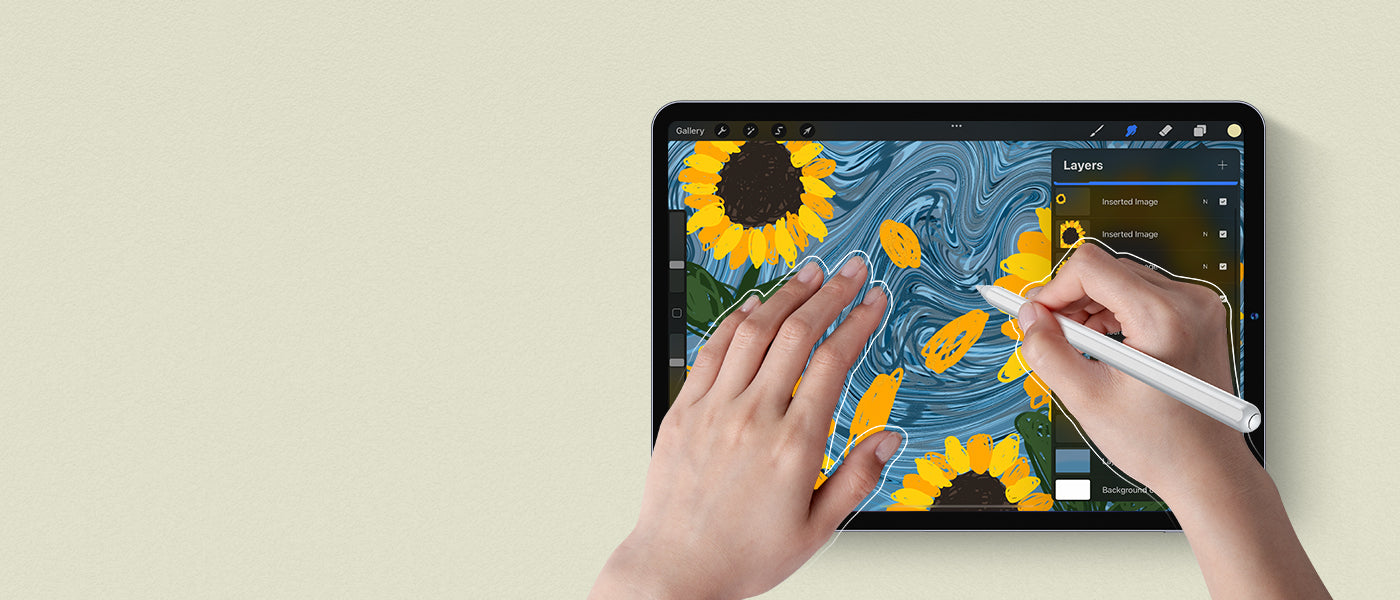 5 Must-Have Features of the Best Apple Pencil Alternative
If you are looking for the 2nd generation Apple pencil, you are probably also seeking the best Apple pencil alternative. Apple pencil has earned a degree of prestige as it is from the top brand, but its high price also deter someone from buying it. For some users, Apple pencil alternatives will be the best choice due to their conditions and needs..
When you choose to opt for an alternative to Apple's original stylus, you may need to know more details about it. Today, we bring Benks magnetic wireless charging pen as an example to analyze what factors contribute it to be the best Apple pencil alternative.
Here are some good points which are likely to arouse your attention.
Apple Pencil Alternative Should be Magnetic Wireless Charging and be Durable Use
If you spend hours working on your iPad outside or perhaps organizing stuff isn't your strong suit, the best Apple pencil alternative for you must have a magnetic function. Like Benks magnetic wireless charging pen, its strong magnetic connection could attach the pen to the side of the iPad sturdily, and sharpen the possibility of losing.
The durable battery of the stylus pen also means a lot for users who have needs to use the iPad outside . Benks pen has 9-hour endurance with 2 hours fully charged. Meanwhile, As revealed by the name, Benks magnetic wireless charging pen could achieve a more sustainable time through being wireless charged by being attached to the iPad.
Write Naturally and Palm Rejection are Essential for Apple Pencil Alternative
A smooth, fluid, and responsive writing experience is the main feature of the best Apple pencil alternative. Thus, be careful to choose the stylus pen with a great, tough, and sensitive tip. Benks pen comes with two replacement tips so you don't need to buy another pen if you lost or ruined the tip accidentally.
For those who want to turn the iPad into a notebook, palm rejection also will be considered as an essential feature of the best Apple pencil alternative. Make sure the pen has a palm rejection technology before the purchase, otherwise, your accidental touches can cause some variance in your paints or notes during writing. But with Benks pen, you are secured as it has palm rejection and provides a smooth, natural, and accurate writing experience.
If you want to unleash your iPad's productivity, go for Benks magnetic wireless charging pen. It absolutely won't be a wrong choice.
The Best Apple Pencil Alternative Should Have Lightweight and Minimalist Design
Adhere to Apple's style, the original Apple pencil has been featured for its excellent aesthetics. As a handy device, practicality and aesthetic appeal are usually put into the same level to consider. It is normal because a small but beautiful stylus pen will bring comfortable and joyful feelings to users, and then increase work productivity.
Similar to Apple Pencil, Benks pen will catch your eyes at the first sight with its premium finish. It is built with aluminum alloy and sprayed with white environmental-friendly material. Grab it in hand, the minimalist white design and the ONLY 12.9g weight will surprise you.   
 More Surprises To Be Discovered
Besides, they are more surprises of this best Apple pencil alternative you may find out. Given that Benks's mission — brings the user experience to a whole new level with high-quality products, we keep refining our product design and outsourcing the best material for your best experience.
This 2nd Gen Apple pencil alternative displays the real-time battery for people getting out of power-off anxiety and achieves excellent drop resistance with high-hardness material.
In fact, many consumers have bought Benks pen and left pretty good comments. Let's delve into the comments to see what could we get.
 Comments of the Best Apple Pencil Alternative
Feels very much like an Apple Pencil, only lacking the pressure sensitivity (which doesn't make a difference for my note-taking). Pairing is only required once. The magnetic charging is amazing. 10/10
——Yohan
Would have never replaced my Apple Pencil
Thank you for producing - not just a replacement, but an update to the Apple Pencil! More functionality and at about 1/3 the cost!
Lost my Apple Pencil 2 and could not get myself to pay $130.00 for a replacement. Was so glad to find this one!
More than I expected with the button functionality on the end and charging indication using a colored circular light. So pleasant and useable! Glad to have a pencil again!
——Mark W.
Works well for me, and at a great price.
——Gary T.
It is amazing!
Save some 100 bucks by going for this tool - basically same functionality and most conveniently: it charges via magnet!
1 star less because it needs to be switched on which takes some 4-5 seconds and lack of the tap-function to switch between pen and eraser as found on the Apple-pencil.
——Richard E.
Conclusion
Here is the summary of the Pros and Cons of Benks magnetic wireless charging pen.
| | |
| --- | --- |
| Pros | Cons  |
| Magnetic wireless charging | Only compatible with iPad Pro/Air series |
| 9 hours endurance | |
| Palm rejection | |
| Draw and write naturally | |
| Two replacement tips | |
| Lightweight and minimalist design | |
| Real-time battery display | |
| Resonable price | |
Great price, various functions. Keep the 5 must-have features of the best Apple pencil alternative in mind, it will help reduce time to get what you want. But regardless, Benks pen is a good selection as the best Apple Pencil alternative. Use the 15% OFF code "Pen15", you could save a lot to have this best Apple Pencil alternative.