Introducing ArmorAir
See Greatness in Lightness
Dupont™
Kevlar® Fiber
ArmorAir case is made with aerospace-grade 600D Dupont™ Kevlar® fiber, with 5 times the strength of steel based on an equal weight basis.
Light as Air, Strong as Steel
Made with 600D DuPont™ Kevlar® fiber, providing 360° protection for your devices, making every touch a delight.
Minimalist hits Different
Simple design meets extraordinary performance. Embrace minimalist elegance while enjoying uncompromising defense against drops and bumps.
Fully MagSafe® Compatible
Immerse yourself in a world of effortless connectivity, attach your iPhone to the MagSafe charger, quick, safe, reliable, and tailored just for you.
Scratches Retreat
You no longer need to place your phone away from everything, just witness the dance of keys, coins, pens, and chaos, futilely attempting to scratch the unscratchable.
Low Profile ≠ Low Protection
Unleash the power of stealth with its low-profile design, while safeguarding your precious device with unparalleled protection.
Technically Tee
Social Media Influencer
Benks ArmorAir is the perfect case when it comes to thin and minimalist protection. With Benks one, you have your top and bottom completely closed, unlike the other thin aramid cases in the market. Honestly I want to keep'em protected at all times all the sides and that's exactly what this air does.
ArmorAir or ArmorPro?
Choose ArmorPro for better shock resistance with TPU frame.
Or, take advantage of ultra-light hands-on experience from ArmorAir Kevlar case.
ArmorPro
Ultimate Protection
ArmorAir
Minimalist, Light Weight
Materials
TPU, 600D Kevlar Fiber, Metal Buttons
Materials
600D Kevlar Fiber, Metal Lens Bezel Ring
Protection Type
Full Protection
Protection Type
Partial Protection
Drop Resistance
6ft Drop Protection
Drop Resistance
4ft Drop Protection
Timeless Style
Behold the epic battle of time versus technology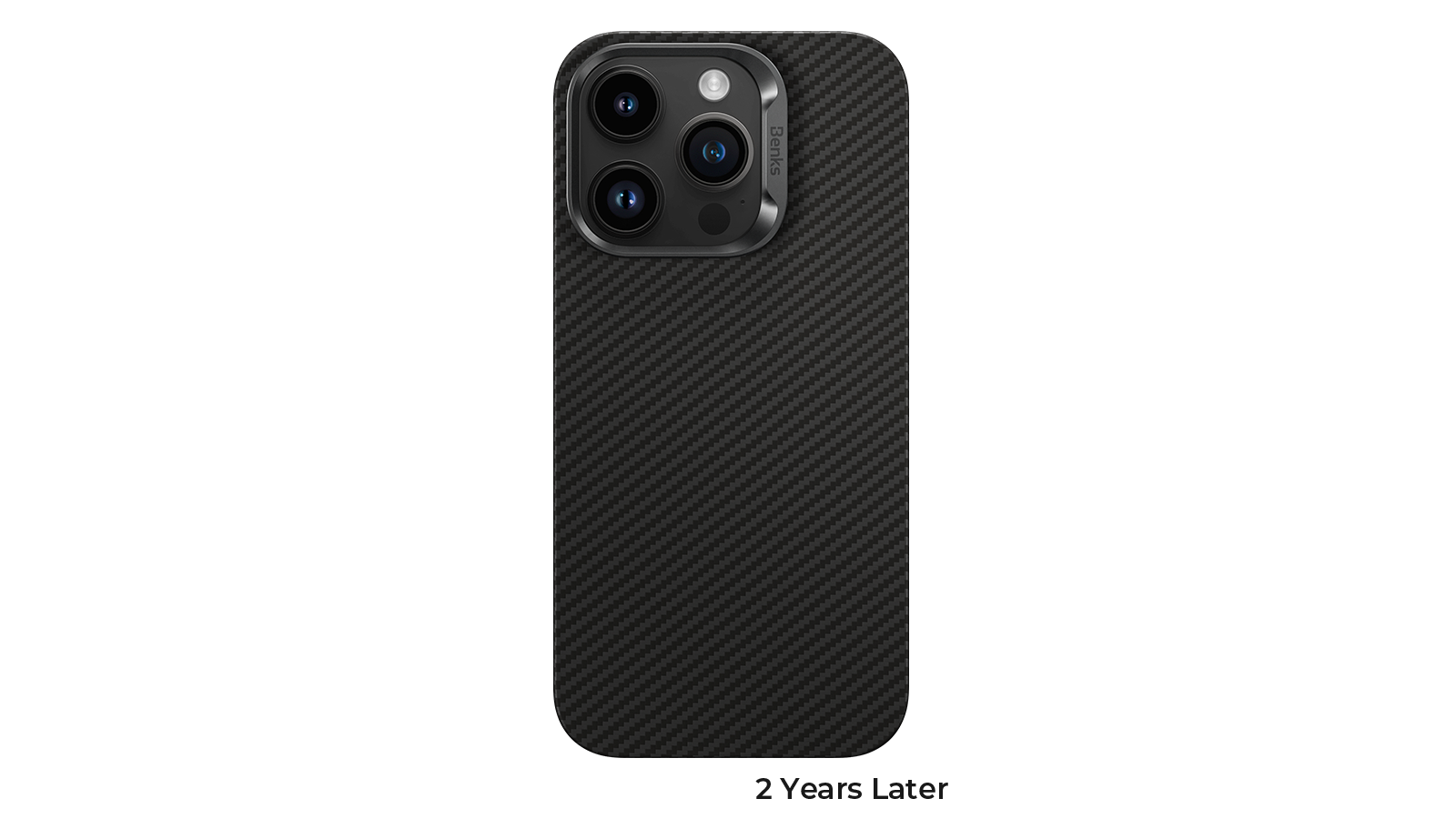 Excellent support
Five star support. I had issue with case. The responded in a second. Offered multiple solution. Don't hesitate to offer case from Banks.
Great Thin Case!
Absolutely love my new case from this company, it not only protects my phone but doesn't bulk it up either which is always a plus. This case works perfect with my MagSafe wallet and I would definitely recommend if your looking for a thin stylish case
Greate support team
I like support team,case looks greate
Almost perfect
NOTE: Edit to the review has been added to the end of the review. Also, the replacement case images are the ones that have red top-left corners. The other images are of the originally received case.
This is a beautifully designed slim case. But unfortunately, it has some quality control issues it seems. For reference, I am using an iPhone 14 Pro. There are 4 main issues I noticed with this phone's version of the case.
1. In the photo showing the bottom corners, you can see small 'bumps' on each corner. This is the case for all corners. It seems this is where the carbon fibres terminate, as evidenced by the pattern. These aren't smoothened out properly and you can feel and see them if you're looking for them. They are finished in the sense they're not sharp, but they're not flush with the rest of the edges.
2. The metal frame around the camera is not flush with the case on the inside as seen in the respective photo. Not sure if this could potentially damage the glass in any way.
3. The fit of the case is a little loose. It won't fall out or anything, but you can feel the heft of the phone rattling if you shake the case vertically. It can be felt with normal usage when shifting the phone around. Taking the phone out of your pocket (if you place the phone upside down) will 'trigger' the shift when you turn the phone the right way up. It can also be felt if the phone is lying down on a table and you pick up the phone to use it. The shifting of the phone feels similar to a short 'tap'/vibration from the phone's Taptic Engine. Not sure if this slight shifting could cause micro scratches if some debris gets between the phone and the case.
4. The MagSafe magnets on the case are very strong. Definitely happy with them. However, the metal ring around the camera is a little thicker than other cases I have used, which may interfere with some types of accessories. Anker MagSafe battery packs (MagGo 321 and 622 tested) seem to just barely lie on top of the metal ring. If you adjust the battery slightly to the bottom, it will lie flat on the case, attach securely, and operate normally from what I can tell.
With respect to shipping and delivery, the shipping times to where I live is 10-15 business days. It arrived in a total of 11 days (8 business days), which is better than advertised. As much as I would love to get it faster (ruined by Amazon's 2-day delivery), I will say I am happy with the delivery times given what Benks quotes. It should be noted that this case ships from China, so delivery times are actually pretty good when you take that into account. The only thing I would like to see improved is their use of 17track for tracking. While it tracks, it is more of a reference than real-time tracking unfortunately. I ended up using the parcelsapp website for tracking, as it also shows the local shipping company (and tracking number) to which the package was handed to. After that, I was able to use the local courier's website/app to track once the package was in the destination country.
Overall, this is a nice feeling minimal case, and the metal ring 'breaks' the carbon fibre look nicely. I would recommend this case, but I do hope Benks improves the QC on this case. This would be a perfect case for me otherwise!
Edit: Contacted support and they were very helpful and understanding of my concerns. They offered a $10 refund (essentially a discount) or a replacement. Opted for the replacement. The replacement is finished better at the front edge corners. The bumps are very minimal (in reference to point number 1 above). The metal camera frame is much flatter on the inside, almost flush with the case (in reference to point number 2 above). Finally, the case fits snugglier than the original one I received. You can still feel the phone shift slightly inside the case if you're looking for it (such as when shaking the phone with the case on). However, it's not as pronounced as the first case I received. Once again, the replacement case was delivered quickly (delivered in 9 days total, 6 business days). Overall, I am very satisfied with my purchase and customer support experience. As such, I am raising my rating from 4 stars to 5 stars.