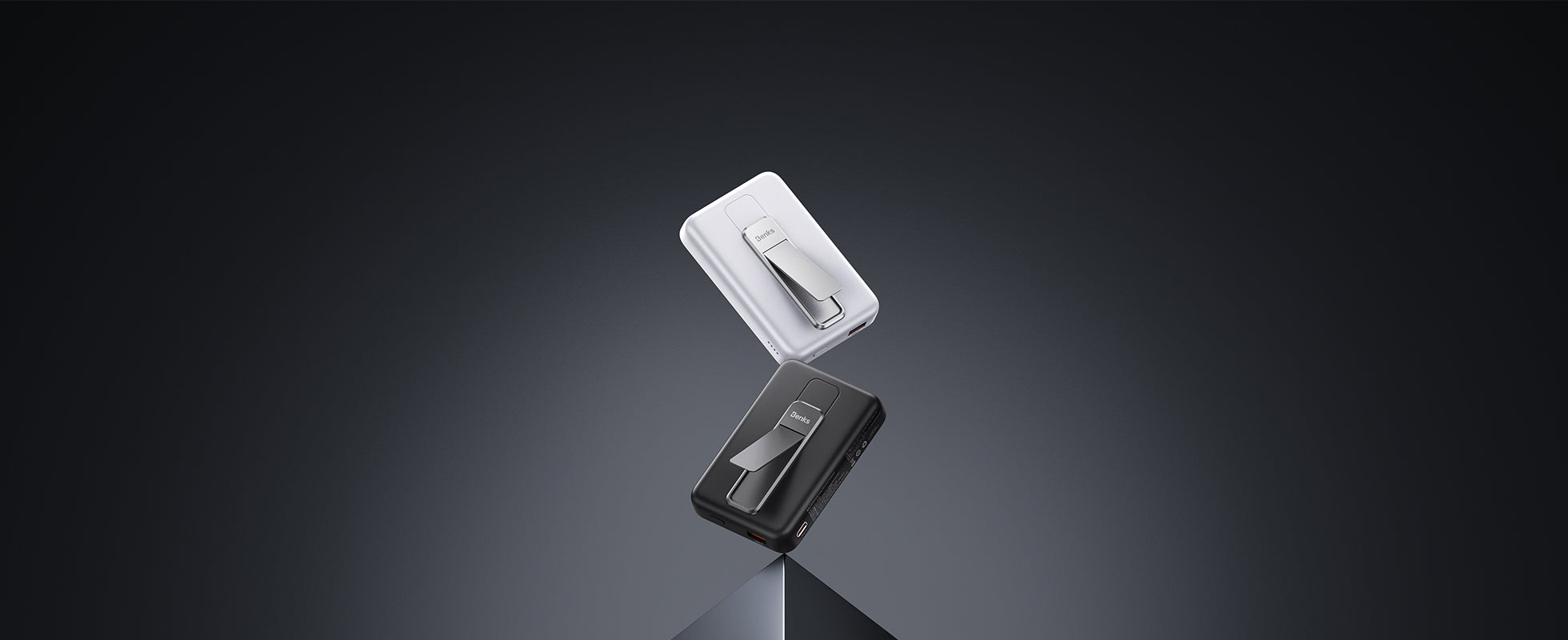 Kickstand Power Bank 10000mAh: Add Convenience to Your Life
The start of this year calls for a rush of minimalism. Instead of a messy desk, most people prefer a tidy one, and someone tends to be minimalist. Add convenience to your desktop setup with a slim, lightweight, and portable kickstand power bank will be helpful.
Now available in Benks, the On-Go 10000mah kickstand power bank is the ultimate minimalist gadget for those who desire to have a clean and neat desk. For users seeking an ultra-lightweight, portable and small size power bank, this phone wireless charging power bank stands out of its full range of functions.
Let's say hello to better meetings with Benks On-Go kickstand power bank. Here is some detailed information you will like to know.
Flexible Using with Kickstand Power Bank
Although only 208g weight, the kickstand power bank charges the phone efficiently and safely and even features a built-in kickstand for holding the phone vertically and horizontally whenever you need a flexible screen view.
The kickstand is thin but robust, and made with aluminum alloy material, unless you treat it really roughly, otherwise, it is durable enough for use. Plus, the foldable kickstand also makes the battery easier to carry.
If you have decided to buy a 10000mAh power bank, why not choose this kickstand power bank? It won't cost you much for this extra function, but it will bring brilliant convenience to you.
Every long-rope-like item twists itself easily, such as women's hair, wired earphones, and the charging cable of the power bank. But with Benks kickstand power bank, you don't need to worry that the cable tangles with stuff on your desk. And you don't need to always remember to bring a cable in the bag while outgoing.
The reason is, you don't need to have a cable. The detachable cable design and the magnetic wireless charging ability add minimalism to every workspace. Snap to charge. Grab to use. Just like Benks On-Go Kickstand power bank, any battery also should be a useful and minimalist desk setup.
Besides being a minimalist desktop setup, the kickstand power bank is also an excellent travel tech gadget. As we mentioned before, Benks On-Go Kickstand Power Bank has a 10000mAh battery capacity. It means it could charge the iPhone 14 fully by 1.5 times. You can expect a reliable charging experience every day. Pretty convenient for outgoing, right?
If you fly somewhere, selecting a power bank that meets the international air transport standard will be necessary. Bearing security and efficiency in mind, this lightweight power bank was built with an intelligent chip to meet the international air transport standard and ensure fast yet safe charging.
The compact, silicone-feeling kickstand power bank has a wireless charging function, a sturdy kickstand, and a 10000 mah durable battery giving you all the keypoints you need for a full-charged situation in life. It is just as aesthetic as an Apple power bank, but only costs $42.99 and is much more affordable with the 15% off coupon "MP15".